Blogs
Our news and insights
Have you just received your first traffic fine?
Here is a step-by-step guide on how to pay your traffic fines and avoid any further trouble.
Getting your first traffic fine can be frustrating and stressful. But everyone is destined to get one in their lifetime. Knowing how to pay your fines promptly and efficiently can alleviate some of the anxiety you may be feeling. Nowadays, there is more than one way to pay your traffic fines. The easiest way is to sign up with an online service provider to pay your fines. In this article, we will provide you with a step-by-step guide on how to pay your traffic fines, ensuring that you fulfil your legal obligations and avoid any unnecessary complications.
Step 1: Receive the Traffic Fine
Now just to make it clear we are not telling you to out looking for opportunities to get traffic fines, but once you do have the fine make sure that the important details have been captured. This includes number plate details car description, location and payment amount, and due date.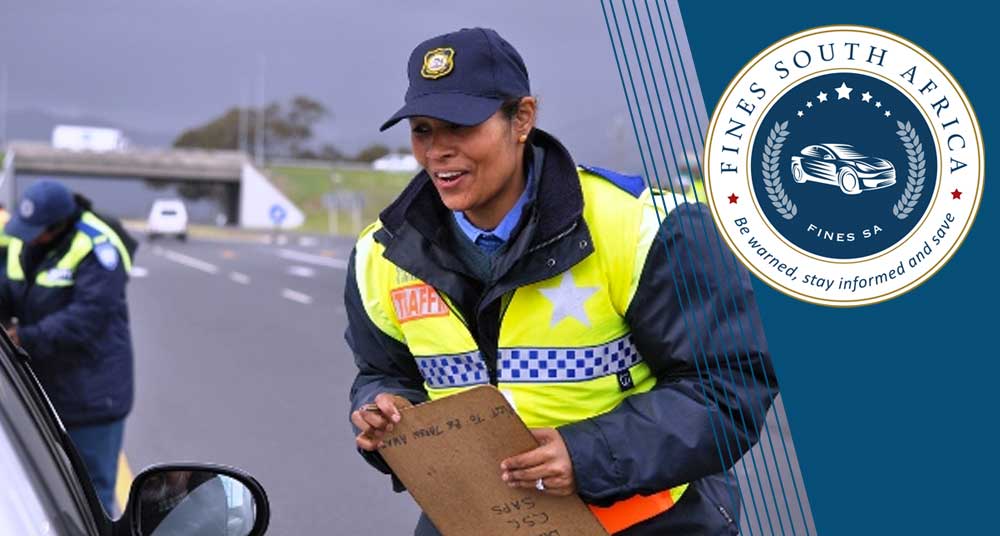 Step 2: Know Your Payment Options
As mentioned before, there are multiple ways of paying your fines.
a. Sign up with Fines SA and pay your fines quickly and easily online.
b. Online Payment: Visit the website of the relevant traffic department or municipality and navigate to the online payment portal but this is done per Municipality and not as efficient as Fines SA as they have all the Municipalities linked. Enter the required details, such as your vehicle registration number and the fine reference number, and follow the instructions to make a secure online payment.
c. Electronic Funds Transfer (EFT): Use your online banking platform to initiate an EFT payment to the designated bank account provided on the traffic fine notice. Ensure that you include the correct reference information to ensure your payment is correctly allocated. This option is available via www.finesSA.co.za
d. Payment at Bank or Post Office: Some traffic departments or municipalities allow payments to be made in person at selected banks or post offices. Take the traffic fine notice along with the required payment in cash or card, and follow the instructions provided by the payment facility. This option is time consuming so we suggest using the online portal available at www.finesSA.co.za
Step 3: You May be Eligible for a discount
Some municipalities may offer early payment discounts or instalment options to ease the burden of traffic fines. Check online for any platforms such as Fines SA to see if we are offering any discounts for paying your traffic fines. Sign up here to find out.
Step 4: Hang onto your Proof of Payment
You never know what mistake could be made when it comes to capturing information and filing, therefore holding onto your POP could save you from any trouble in the future. Staying on top of your fines if you, unfortunately, receive any can only prevent further consequences. Fines SA provides a platform where you can check to see if you have any outstanding fines and easily pay them online with us. To check if you have any fines.